Smoking and Oral Health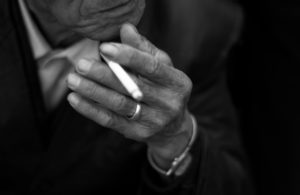 Tobacco is highly addictive and is dangerous for your oral and general health. It increases your risk of gum disease and oral cancer, slows down healing and recovery, causes bad breath and teeth discolouration, and dulls your sense of taste and smell. Gum Disease
Smoking weakens your immune system, making it harder for your body to avoid infections. It also becomes harder for your gum to heal once it's damaged.
If you're smoking, your risk of incurring gum diseases also increases due to the number of bacteria and plaque in your mouth. Possible treatments may also not work well for you.
Regardless of the type of tobacco you're using, smoking can make you more susceptible to gum problems. Gum disease also progresses faster for smokers.
Oral Cancer
Those who drink and smoke are at increased risk for cancers of the mouth.
Certain chemicals in tobacco can alter cells in the mouth cavity and trigger oral cancer. The mouth is exposed to these carcinogenic chemicals when chewing directly on tobacco or inhaling it while smoking.
Common signs of oral cancer include sores that do not heal, numbness or tenderness in the mouth, bumpy patches, and difficulty when speaking, chewing or swallowing.
Cavities
Smokers can also experience dry mouth symptoms. Saliva becomes thicker, making it easier for bacteria to cling onto teeth and gums.
When plaque develops on the teeth and spreads along the gum line, it can become harder to remove and turn into tartar.
Tartar build-up can be removed in the dental office, through professional dental cleanings.
Teeth Discolouration
Tar and nicotine in cigarettes penetrate the pores of the teeth, causing staining.
Nicotine is colorless, but it turns yellow when combined with oxygen. When brown tobacco is chewed and mixed with saliva, it leaves behind a dark brown liquid that causes teeth discoloration.
Tobacco stains can be difficult to remove as they have accumulated over the years and have already penetrated deep into the enamel. Professional teeth whitening at the dental office can help brighten stained teeth due to smoking.
Bad Breath
Smoking also causes bad breath and the unpleasant smell can't be remedied easily with a mint.
When you smoke, the chemicals can linger on the surfaces of the mouth. And since smoking also causes dry mouth, it makes bad breath even worse.
If the odor in your mouth is caused by smoking, the best way to fix it is to quick the habit. Your dental team can help you if you need professional advice.
Dulled Sense of Taste and Smell
Regular smoking may get in the way of you enjoying your food. Your sense of taste and smell may no longer be as precise, and you may find yourself adding more condiments to your food to make it more flavorful. This can still be reversed by eliminating the habit.
Getting Rid of the Habit
Quitting will be challenging mentally and emotionally, but with the support of people around you, you'll eventually get there. It may take months or years so it's okay to take one small step daily.
Let your dentist know that you are trying to quit smoking. Through routine dental check-ups, your dentist can spot potential damage on your mouth caused by smoking.
Your dental team can educate you on the impacts of smoking on your oral health that you may not be aware of and help you stop the habit. It's never too late to care for your mouth and general health better.

10309 98 Street
Grande Prairie, Alberta T8V 2E7
New Patient: (587) 803-4406
Existing Patient: (780) 532-2212
HOURS
Monday - Thursday
8:00am - 4:30pm
Friday
8:00am - 2:00pm
Copyright 2022 Generations Dental and Dental Growth Strategies | All Rights Reserved | Powered by Dental Growth Strategies
This website uses cookies.